The first land in this site was acquired by Čmelák in 2004 through a fundraising campaign; it was 7 hectares of young spruce forest, which was bought from the original owner for 245,000 CZK. It was the worst thing you could imagine in the forest – a young, dark, and dense spruce, with trunks damaged by game, broken tops and almost lifeless.

Such monocultures are very common in the Czech republic. We tarted taking care of this site so that we could check for ourselves and show to others that even such a tragic forest can be turned into an interesting place for people and nature. This would not be possible without the support of several thousand donors, who became patrons of specific m2 of New Virgin Forest and thus enabled us to accomplish the entire project. Thanks again to everyone.

However, the path to today's situation was not easy at all. The main problem is overpopulated game, such as roe deer, red deer and mouflon, which can completely destroy young seedlings, especially when the only other food around are spruces and needles. That's why we had to start building expensive fences that will protect the young trees in the first years. Some of the fences are now over three meters high. Hundreds of volunteers, of all ages and literally from all over the world, also took part in the work.

What a man has spoiled, a man can often improve again…

What does the New Virgin Forest look like today?

Today you can come across many fences on our sites, the largest of which has 6 hectares. Places that are still dark and dense, as well as lighter places, where firs, beeches, maples or elms grow, can both be seen now. Various species of shrubs and herbs have also returned to the places with more light. If you are lucky, you will also meet badgers, various kinds of birds or one of the bats. New Virgin Forest is a place where one can see that damage caused by people in the past, often out of ignorance, can be remedied again.

Regular annual care is necessary

Now, most of our work consists of the maintenance of fences, every stronger wind causes the weakened spruces around to fall down and thus destroy the fencing. Within ten or fifteen years, however, most of the seedlings should be grown, and we also hope that the lynx or wolf will return to the Ještěd ridge and reduce the numbers of overpopulated game to a tolerable amount. Unfortunately, the bark beetle has not avoided our forests. Therefore, we cut down the infested spruces, debark them, but we do not remove them. We leave them in the forest and let them rot on the spot.

Events for the public, programs for schools

You can visit the New Virgin Forest on your own, the map is available here. It is recommendable to combine the trip with a visit to Ještěd, Pláně or Podještědí – the region of Karolina Světlá. In addition, we organize excursions for professionals and the public or events for volunteers every year. Thanks to good accessibility by public transport – about 3.5 km from the end tram stop in Liberec-Horní Hanychov, our eco-educational programs for schools also can take place here.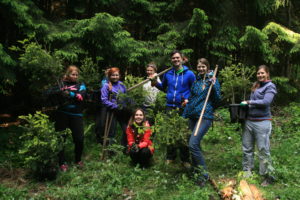 How to get to the New Virgin Forest